The internet has changed the way we communicate with one another. The sheer amount of data we generate and consume is astonishing. We generate two million blog articles such as this one every day and consume three times as much information as we did 50 years ago!

Ultimately, the internet is an important tool for communication and information sourcing and this holds true in the mortgage industry. According to the annual CMHC Mortgage Consumer Survey, more people are turning to the internet to source their mortgage needs each year.
71% of mortgage consumers reported using online source (up 6% over 2011)
One in three relied on the internet exclusively (up 9% over 2011)
Websites such as Ratehub.ca, which allow Canadians to compare mortgage rates, are gaining popularity as a source for interest rate and mortgage information. Nearly 40% of recent buyers went online to complete a financial self-assessment test and more than 70% of homebuyers used online resources to educate themselves between the differences of various mortgage products.
Social media is also an important tool for mortgage shoppers, especially among the younger generation. Social media use across the first-time home buyer segment has increased significantly over the last two years (see chart below). Overall, Facebook was the most popular social network among all mortgage consumers.
One in five first-time home buyers use social media
43% of social media users sought an opinion or provided answers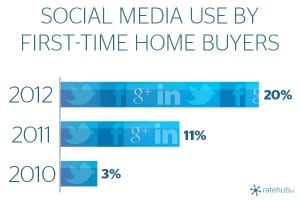 Today's mortgage shoppers are also more mobile than ever due to the popularity and prevalence of smartphones.  Consumers using mobile data devices increased in 2012 to 14%, up from 10% in 2011. Among 18 to 24 year-olds, mobile use was noticeably higher at 38%.
The internet has opened more doors for mortgage consumers to access information to satisfy their needs, whether it be for current mortgage rates, mortgage payment calculators or mortgage education.