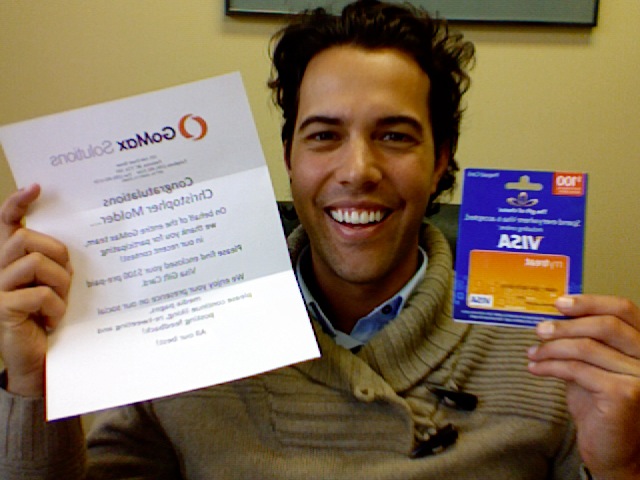 Any of Tridac – The Mortgage Centre's clients know exactly what my connection to piggy banks is. If you've done business with us then you no doubt have received one of our cute little piggy banks as a 'thank you' gift after closing your mortgage.  The significance of the piggy bank runs deep in our family business as a metaphor for savings and the building of equity in your home. My Dad has been using piggy banks for years and the apple hasn't fallen far from the tree as evidenced in our most recent company portrait below.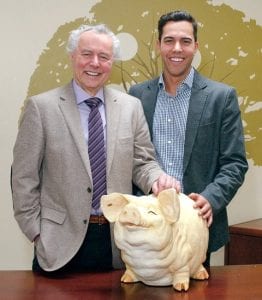 Piggy banks and cute closing gifts aside, the glue that binds together any successful relationship business like our mortgage brokerage, is a solid client relationship management system or CRM in industry terms. I rely on British Colombia based CRM provider GoMax Solutions for the tools and systems that allow me to provide the personalized service that my clients have come to expect and enjoy from me.  Earlier this month GoMax ran a Facebook contest asking mortgage agents and brokers to share their best marketing ideas. I shared our Piggy Bank idea below and won the $100 prize!
Upon successfully closing a mortgage with any of our clients, we send them a very attractive looking piggy bank and message along the lines of "like a constantly dripping faucet will eventually fill any vessel, the accumulation of small amounts of money will amount to significant savings over time." The piggy bank and savings then become a topic of conversation throughout our various touch points throughout the year. GoMax has made the management of these touch points so easy. On our client's birthday we send them a card with a brand new shiny loonie. We use the piggy bank as a metaphor for equity in a client's home and use it to show how small changes to payment habits can result in major savings over the life of the mortgage.
Whether you are a first time home buyer shopping around for a mortgage or you already have a mortgage and are looking to see what else is out there, I invite you to give me a call 416.461.0204 or fill out the contact form below. Not only will you get  personalized attention from experienced brokers (checkout our client testimonials) but you'll also receive great rates, unbiased advice and your own little piggy bank and all of this for free! Why for free? Because as a mortgage broker I get compensated through the bank by a finder's fee so our service doesn't cost you. I look forward to hearing from you.
[contact-form-7 404 "Not Found"]