Welcome to the MCC Home Centre App
Mortgage Centre Canada is one of the country's largest and best-known mortgage brokerage networks. Their app, Home Centre, allows you to carry their guidance in your pocket. This app is a fantastic tool to help current and future homeowners understand their mortgage needs. From researching your purchasing power to studying interest rates, this app means you have a wealth of information at your fingertips.
Today, we're going to examine the Mortgage Calculator tool. This feature allows you to hypothetically calculate how much your payments would be based on interest rates, amortization period, and mortgage amount. 
According to the Toronto Region Real Estate Board, the average price of a home in Toronto across all housing types was over $1.3 million in February 2022. We will use this purchase price as our example today. If you provide a 20 per cent down payment of $260,000, this means you will have a mortgage amount of $1,040,000.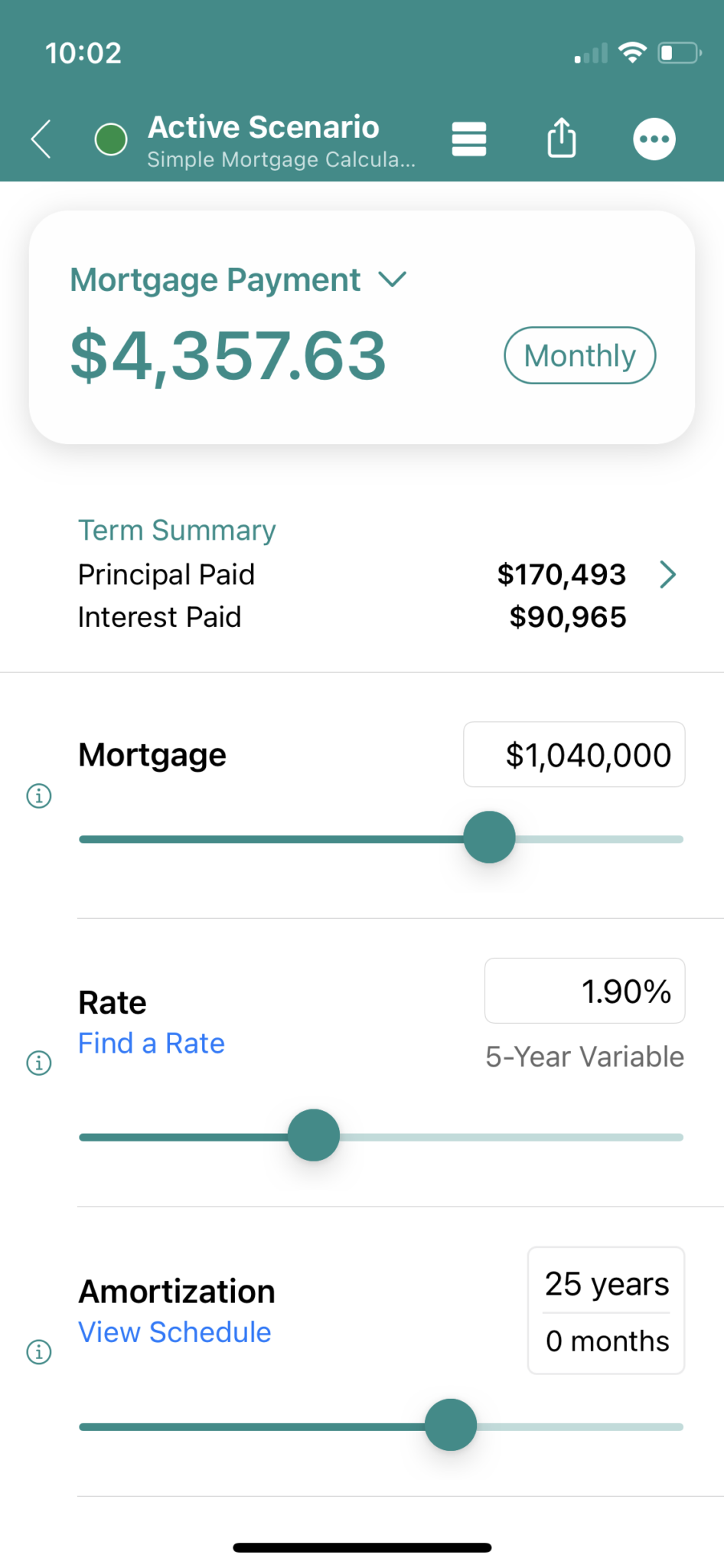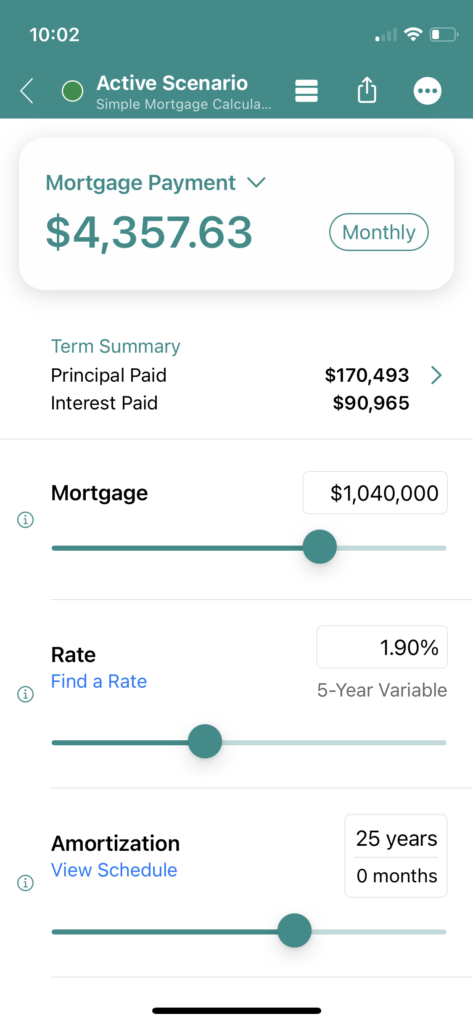 Using the sliders on the Mortgage Calculator,  you can adjust the mortgage amount, rate, and amortization schedule to fit your needs. In this example, we will use TD's 5 year variable rate mortgage with a 1.90% interest rate, and a 25 year amortization period and monthly payments. This makes your monthly payment $4357.63.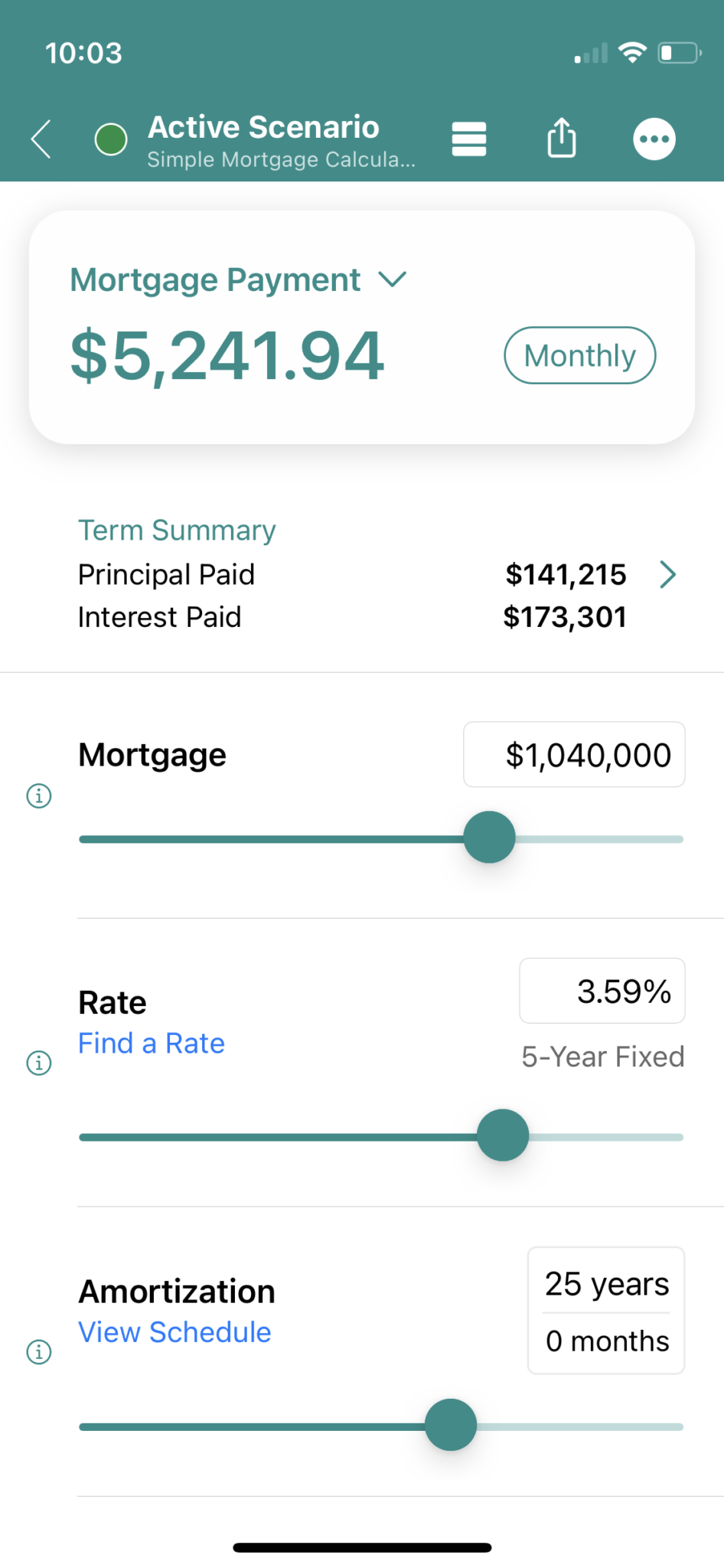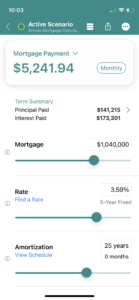 For comparison, we can keep everything the same but change our rate to TD's 5 year fixed rate of 3.59%, which increases your monthly payment to $5241.94.
The Mortgage Calculator feature is so simple to use, and you can easily adjust any of the sliders to fit your situation. This gives you an idea of the costs you're looking at and how different settings will affect your payments. Remember, this is just an example and may not reflect your situation with complete accuracy, but it's a handy feature to get you on the right track.
You can download the MCC Home Centre App here.
Want to continue the mortgage discussion? Contact me or book a call into my calendar below.