Welcome to the MCC Home Centre App
Mortgage Centre Canada is one of the country's largest and best-known mortgage brokerage networks. Their app, Home Centre, allows you to carry their guidance in your pocket. This app is a fantastic tool to help current and future homeowners understand their mortgage needs. From researching your purchasing power to studying interest rates, this app means you have a wealth of information at your fingertips.
In today's video, we're going to review the Refinance Analyzer tool. This handy feature helps borrowers and brokers do some quick math to determine how much money you could save by refinancing your mortgage.
The decision to refinance can be complex. It's important to calculate the costs and benefits of a refinance to see if you will save more money with a new term or not. Thankfully, the Refinance Analyzer tool has made this process easy. Let's do a quick example.
In today's example, we're going to create a refinance calculator for Alphonso Davies, one of my favourite Canadian athletes. We'll start by customizing Alphonso's current situation, including the value of his property, current interest rate, current mortgage balance, and so on. The app will guide you through every step you need to fill out. From there, it will calculate your monthly payment and your renewal date. All of this information helps us figure out how much interest Alphonso will pay before his renewal date of April 1, 2024.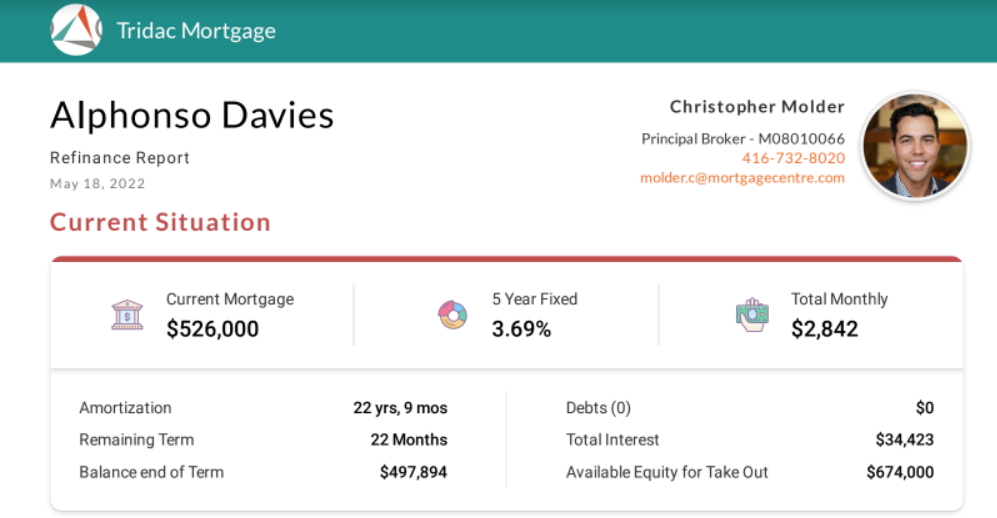 A proposed solution will tell us how much Alphonso can save by refinancing his mortgage, based on his situation and today's rates. In this example, he can switch to a five-year variable rate mortgage that is much lower than his current fixed rate. He will end up paying $706 less per month.

The results summary below illustrates how much interest Alphonso is saving through his refinance. The blue box shows the interest on his current mortgage, the red box represents the cost of refinancing, and the green box shows Alphonso's new, lower, interest rate. As you can see, he is saving money by refinancing. This tool is helpful because it tells us whether a refinance will save or cost borrowers more money in the long run.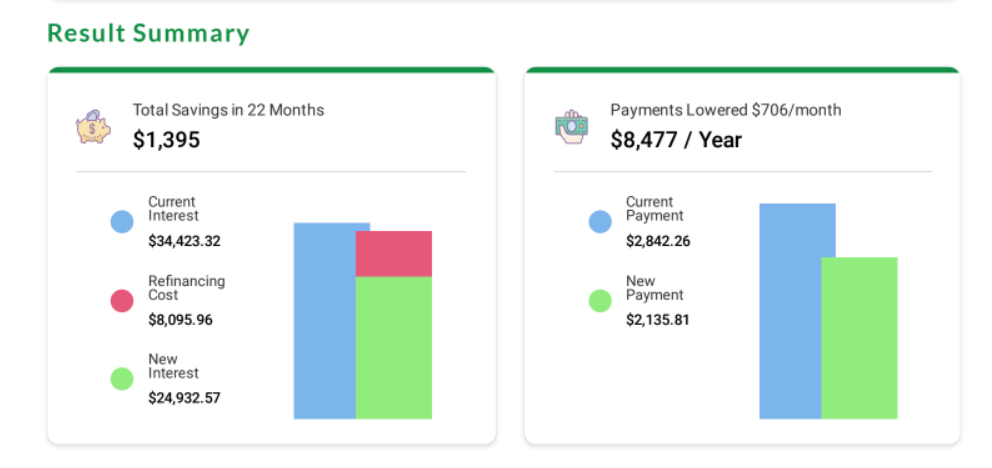 The Refinance Analyzer tool makes it easy for borrowers to know if it's worth it to refinance their mortgage. I really encourage clients to check out the MCC Home Centre App to give them a better understanding of their mortgage situation.
You can download the MCC Home Centre App here.
Want to continue the mortgage discussion? Contact me or book a call into my calendar below.