I was recently contacted by The Toronto Star business reporter  Susan Pigg to provide some insight into what I am observing in the Toronto condo market. The most current numbers released by TREB indicate that Toronto real estate sales volume was up 21% and along with prices up 5.5% summer 2013. That surprised a lot of people especially given recent attempts to slow down the market by implementing stricter mortgage rules. I was happy to oblige with Susan's request and found my name in print this week which is always a compliment and much appreciated.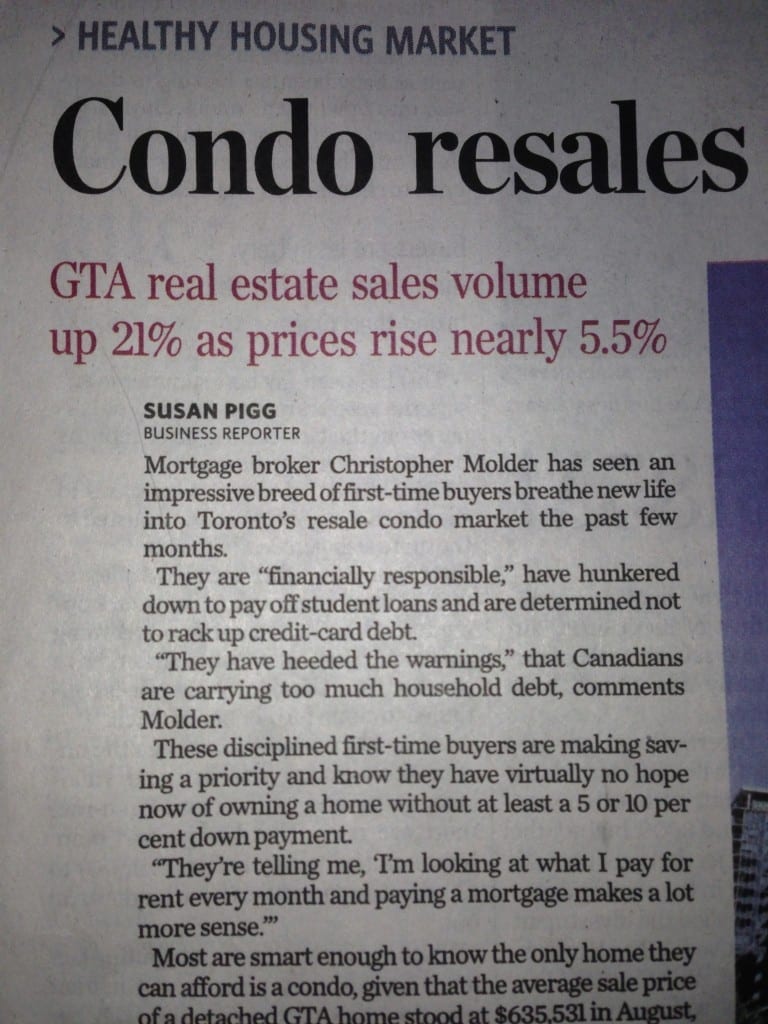 First-Time Home Buyer Profile
Her story reflects a trend I've recently noted with first time home buyers personally in my day to day business.
Although there is no doubt that there are households accumulating debt the types of young first time home buyers coming to my office certainly don't fit that profile.
They aren't debt laden youth addicted to credit with out of control consumer spending habits. These first time home buyers who typically focus on the condo market due to affordability, have paid off their student debt and carry very little credit if any. They either have their cars paid off or have opted to save instead of owning an expensive vehicle.
In talking to them it's clear that they have opted to make home ownership a goal earlier in life and worked hard to save the required 5% to 10% for the down payment.
Financially Responsible Profile
I admit that there could be a lot of reasons why I am observing the financially responsible profile this summer.
Maybe the cautionary reports and headlines about the dangers of credit are resonating with young people.
Or perhaps there is a lot of self screening happening. There is a tonne of information available online and younger borrowers who are comfortable searching and learning online might be "self diagnosing" their credit worthiness and ability to own before applying.
In any event these credit worthy smart and savvy first time home buyers have made a difference which is reflected in part by the recent sales data.
If you found this piece useful add your name to my Free blog updates. It's a great way to stay current and to learn stuff your banker probably won't tell you! No spam. Ever. Promise.