We're almost at the end of another year! 2022 kept us busy, and I hope everyone is enjoying a well-deserved holiday break. However, the new year is right around the corner, which means it's time to outline the 2023 Bank of Canada interest rate announcement dates.
The central bank ended this year with its seventh rate hike in a row, making us anxious to know how it will kick off 2023. As usual, I will be keeping a close eye on the bank's activities and breaking them down. To prepare, I wanted to start by listing the upcoming announcement dates for 2023. You can also read my post about the bank's December 2022 announcement here, to ensure you're caught up.
Interest rate announcement dates
On eight Wednesdays every year, the Bank of Canada holds a meeting and issues a press release surrounding the target for the overnight rate. The overnight rate influences the rate big banks use to lend and borrow from each other, and it impacts mortgage rates as well. We are exiting 2022 with an overnight rate of 4.25 per cent. Rates have been rising since March to combat inflation in the Canadian economy.
Here are the key announcement dates for 2023: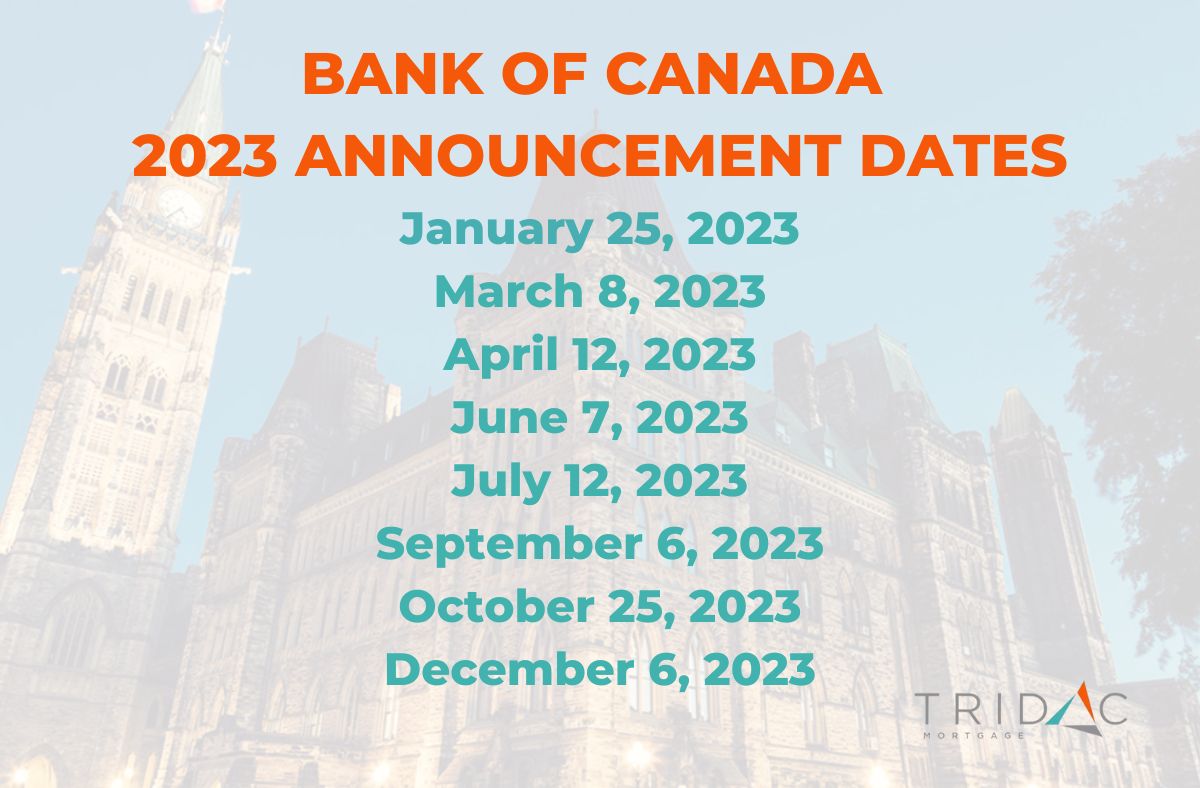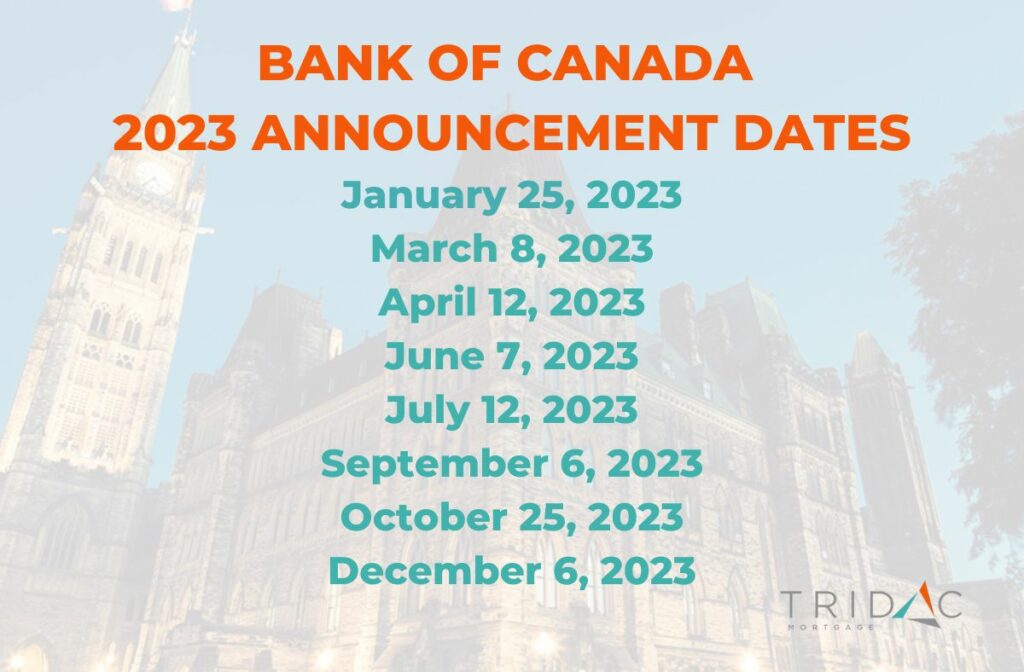 What will we see in 2023?
Throughout 2022, the bank has been raising rates in the hopes of reducing record-high inflation. The good news is inflation seems to be on the decline, and the bank has hinted it is reaching the end of this rate hike cycle. This means even if we see more rate increases in 2023, they will be smaller and shorter-lived. I think we can expect to see rate hikes stop within the coming months.
We also need to prepare for the possibility of an economic downturn, which would cause interest rates to drop once again. If Canada enters a recession, the bank will likely have to reduce rates to help keep the economy moving. However, we don't know when, or if, this will happen, so it's something to watch out for as we move through 2023.
Reach out with confidence
I will be entering 2023 with the same commitment to my clients, and the dedication to helping everyone find the right mortgage path. I understand that rapidly changing market conditions can be stressful, which is why I want all borrowers to know they have someone on their side. I'm still just a phone call or email away. Book a call directly via my calendar below, or get in touch with me here.