Playing soccer and talking about the Toronto real estate market and possible housing market bubble usually don't mix. But anything is possible. Last month while I was in Punta Cana attending the 2012 Mortgage Centre's Annual conference, Avery Shenfeld, Chief Economist of the CIBC, and I were deadlocked in a seriously competitive game of beach soccer. Our opponents were a team
of chest height 14 year olds from Brazil. Despite our best efforts Avery and I couldn't avoid an inevitable defeat at the hands of the boys from Brazil. Dejected and out of breathe,  Avery and I decided to walk it off and went for a stroll along the beach.
It was only a matter of time before the casual conversation turned to Canadian real estate. Along the way he shared some insights with me about housing prices and the dreaded "B" word. Bubble.  There are two things Avery explained to me that have put my mind at ease regarding the over heated real estate market.
A Balanced Real Estate Market

Anybody who has recently braved the real estate market especially here in Toronto is probably well aware that the market has been slightly favoring sellers. That trend will likely change in 2012. Over the last two months the sales to new listings ratio, an important metric used by economist to determine whether we are in a buyer's market or seller's market, has started to ease off and the expectation is that the market will continue to balance itself in 2012.  There are a number of reasons including the possible tightening of mortgage rules (more to come on that topic on this blog), concerns about purchasers affordability being maxed out and over supply in the market. If you look at the graph below you will see that the sales to new listings ratio is hovering around the 50% mark, a good indicator of a healthy real estate market.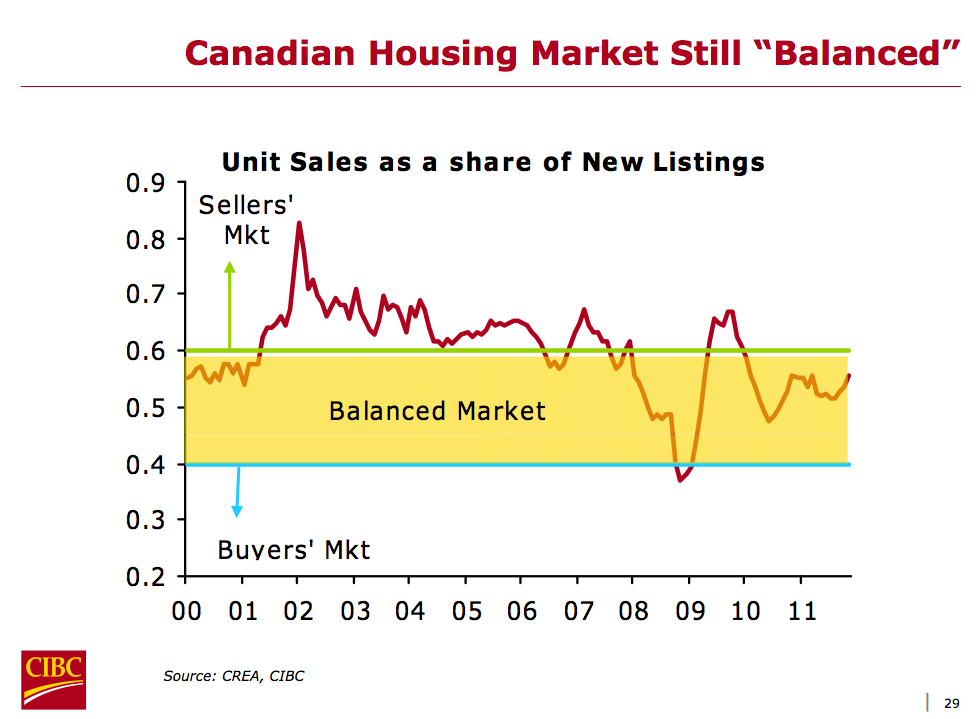 Housing Inflation

Avery also explained to me that housing inflation, another indicator used to check the health of a real estate market, was trending back towards zero. House inflation is a measure used to determine year over year (y/y) how rapidly housing prices are increasing. The current y/y % change is around 4.8% as of the 3rd quarter of 2011. Globally Canada has some of the hottest real estate however economists are expecting prices to level off spring 2012. Ultra-low interest rates are still attracting buyers, but increased economic uncertainty combined with job loss and unemployment could effect the numbers in 2012.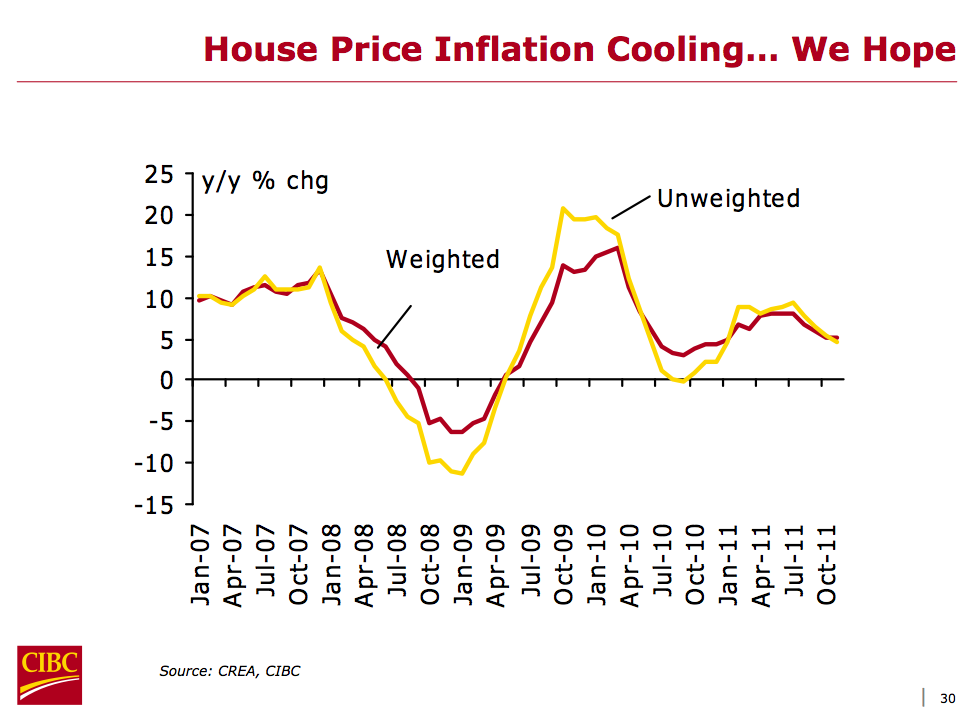 By the time Avery and I made it back to our resort his message was clear regarding Canadian real estate in 2012. Things could be better and they could be worse. 2012 appears as if it's going to be a flat year.
Personally I think this is great news because the numbers are showing that Canada is not experiencing a real estate bubble and that things look like they are easing softly in what has been a somewhat over heated market over the past 24 months.  A sentiment that is starting to be shared in the media most recently Canada Housing Is Pricey But Far From A Bubble: BMO
What do you think? Do you have an opinion about Canada's real estate market? I'd love to hear your comments. Feel free to drop me a line below.