Last week the Globe & Mail published an interesting article in their mortgage section entitled pay your mortgage like it's 2007 by Vancouver mortgage broker Rob McLister. In the article Rob points out that mortgage interest rates are half of what they were 5 years ago in 2007 (see graph below).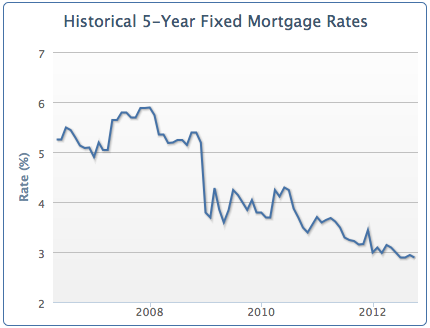 If rates are half of what they were 5 years ago that means that right now is the time to make "hay" while the sun is shining. Current low fixed rate mortgages present a great opportunity for you to quickly and effectively pay down your mortgage.
Take for example a $200,000 mortgage, then and now.
2007: FIXED 5 YEAR 6%
Monthly payment was $1,279 and you'd pay $56,450 of interest to the lender over a 5 year term.
2012: FIXED 5 YEAR 2.99%
Monthly payment is $945 and you'll pay only $27,644 of interest to the lender over 5 years.
PAY LIKE IT'S 2007
As the title of the article implies, taking today's rate of 2.99% but making monthly payments equivalent to the 2007 payment of $1,279 is the best way to pay off your mortgage faster and save yourself money in interest paid to the lender. In our example above you reduce your amortization from 25 years to approximately 16 years. You also manage to pay off an additional $20,000 off the balance with the higher payments. If you follow other best practices like taking an accelerated bi-weekly payment those savings get amplified even further.
TODAY'S BEST MORTGAGE INTEREST RATES
I'm starting to feel like a broken record saying that rates have never been lower but it's the truth. Current fixed 5 year (2.99%) and 10 year (3.89%) term mortgages offer today's borrower great balance between low rate and long term stability of rate.


Looking for advice on paying your mortgage off sooner? Please email me now or pick up the phone to call me. It's free and unbiased.  I love helping homeowners realize savings through their mortgage. Please feel free to share this post with anyone whose financial well being you care about.