The number of Canadians carrying mortgage debt into their 70s was the hottest mortgage topic this week. A recent RBC poll showed that one-third (33 per cent) of older Canadians over the age of 55, have 16 or more years left on their mortgage term. This statistic makes me wonder if these older Canadians aren't better off concentrating their limited cashflow towards a retirement nest egg rather than paying off their mortgage? At the age of 70 what good is it to have a free and clear home with no other assets to live off of?  I'd love to know the statistics on how many of these older Canadians who finally pay off their mortgages will have to go straight back to the bank to request a reverse mortgage in order cover the cost of living in retirement? It's extremely ironic when you think of the life time spent paying for a mortgage just to have a free and clear home for the bank to register another mortgage on at the end of your life. Good for banks, bad for hard working Canadians.
Mortgage interest rates have stayed relatively stable as there has been some stability in the Government of Canada bond market over the past 2 weeks.
[youtube width="550″ height="360″]http://www.youtube.com/watch?v=e3lixQXLne0
Son Of A Broker's Pick Of The Week: If you require your mortgage in 2011 the 3.29% is a no brainer. I expect to see that rate continued into the new year.
1 Year Fixed – 3.08%
3 Year Fixed – 3.35%
5 Year Fixed – 3.49%
5 Year Fixed (must close by Dec 31st) – 3.29%
5 Year Variable P (3.00%)
50/50 Hybrid 3.25% (effective rate)
Prime Rate is currently 3.00%
The following graph compares the discounted weekly fixed 5 year rate vs. the discounted variable 5 year rate since January 2011.

This graph is sourced from my friends at Ratehub.ca and is sample of what type of mortgages visitors to their site were requesting last week.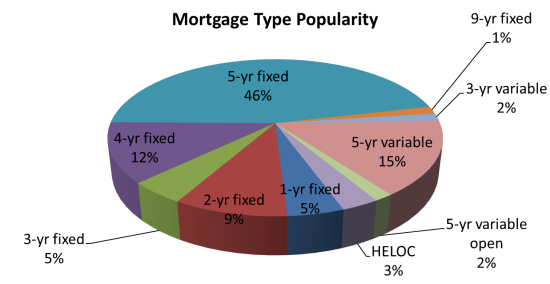 Click Here to apply for your mortgage today.