I haven't talked much about my involvement with my local Business Improvement Area on The Danforth. In January 2011 I was elected by my fellow business counter parts on The Danforth to sit on the Board of Directors as Treasurer for the BIA and most recently I have also assumed the roll as Co-Chair. A Business Improvement Area (BIA) is an association of business people within a specified district who join together, with official approval of the City, in a self-help program aimed at stimulating local business. BIAs serve as an economic and social anchor for the surrounding neighbourhood and help to stabilize and add vitality to the local community.
As part of our role in the local community we have initiated a series of events called The Danforth Experience which are aimed at showing Toronto that there is more to The Danforth than the monolithic Taste Of The Danforth event held every August.  The next event is our exciting Holiday Cheer Event being held this Saturday, December the 3rd from 2pm-5:30pm. Our Holiday Cheer event is designed to encourage visitors to come to our area for an afternoon of holiday shopping, eating, and sampling wines in each of our participating businesses.  The Danforth BIA will sell Holiday Cheer passports for the low price of $5.00.  Each passport allows our guests to sample a variety of Churchill Cellars wines being offered at each location. Yours truly will be stationed at the passport booth so come say hello! The booth will be located under the canopy of the newly renovated historic Danforth Music Hall which is also opening its doors for the first time this Saturday.
Looking forward to seeing you all on the Danforth!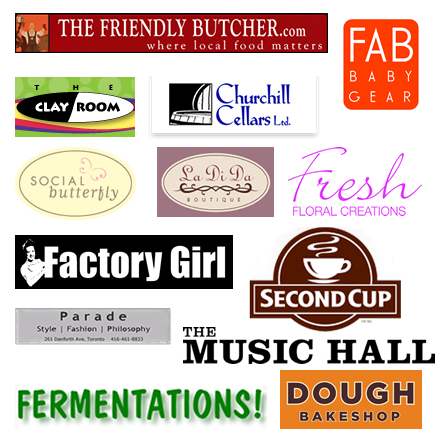 The $5.00 All Access ticket allows shoppers to enjoy a glass of holiday cheer and festive nibbles while wrapping up their gift lists at the following Danforth Experience Toast to the Holidays businesses:
La Di Da, 128 Danforth Ave.
The Danforth Music Hall, 147 Danforth Ave (special open house from 2pm to 3pm)
Dough Bakeshop, 173 Danforth Ave.
FRESH Floral Creations, 175 B Danforth Ave.
Factory Girl Restaurant, 193 Danforth Ave.
Fermentations, 201 Danforth Ave.
The Friendly Butcher, 207 Danforth Ave.
Parade, 261 Danforth Ave.
The Clay Room, 279 Danforth Ave.
Fab Baby Gear, 286 Danforth Ave.
Social Butterfly, 315 Danforth Ave.
The Second Cup, 355 Danforth Ave. – Specially for the Kids with Riverdale Share Concert carolers, hot chocolate samples and a visit with Santa.