Who doesn't love a contest? Especially when the prize is $300 bucks. And the good people at ratehub invited me to participate in their Homebuyer Jeopardy contest. For details on the contest check out their Facebook page.

Save the minimum 5% down payment or wait for a larger down payment?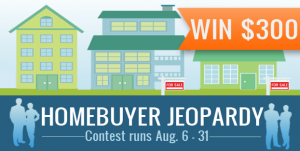 As the mortgage expert on the contest I answered a question from first time home buyers, Erin and Kevin, who asked if they should buy with the minimum 5% down or wait until they have a larger down payment.
There are pros and cons for saving for a larger down payment which I share in my video response. Check it out!

Do you have any other first time home buyer questions? I'm here to help you. Send me your question. And stay in the loop by signing up for my free blog updates. I never spam. Promise.